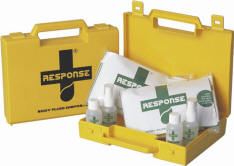 Bio Hazard Decontamination
Body fluids such as: blood, vomit faeces, urine and mucus can act as a vehicle for the transmission of biological agents such as harmful micro-organisms.

The RESPONSE® range offers both products and systems that effectively reduce the risk of cross infection / cross contamination when dealing with body fluid spills which may be infected / contaminated with biological agents such as viruses, bacteria, fungi etc.

The RESPONSE® products and systems are used internationally. They have proven to be practical, versatile and extremely effective in a wide range of environments, often replacing less effective and more harmful products, they are ideally suited for and typically used in areas such as:

Healthcare: Hospitals, Surgeries, Nursing and Residential Homes
Emergency Services: Police, Ambulance and Fire Brigade
Specialist Services: Prison, Probationary, Council and Waste Collection
Education: Universities, Colleges, Schools and Nurseries
Transport: Airlines, Railways, Coaches, Ferries, Liners and Taxis
Leisure: Hotels, Clubs, Cinemas, Restaurants and Theatres.
Sports: Gymnasiums, Swimming Pools, Leisure Centres, Playing Fields and Stadiums.
1 APPLICATION KIT - RES001Y
2 APPLICATION KIT - RES002Y
5 APPLICATION KIT RES005Y
10 APPLICATION KIT RES010Y
CARRYING CASE (YELLOW) 1 CASE001
DISINFECTANT SPRAY (30ml) 1 RES300
SUPER ABSORBENT (10g) 1 RES400
CLEAN UP PACK 1 RES040
CARRYING CASE (YELLOW) 1 CASE001
DISINFECTANT SPRAY (30ml) 2 RES300
SUPER ABSORBENT (10g) 2 RES400
CLEAN UP PACK 2 RES040
CARRYING CASE (YELLOW) 1 CASE001
DISINFECTANT SPRAY (30ml) 5 RES300
SUPER ABSORBENT (100g) 1 RES402
CLEAN UP PACK 5 RES040

CARRYING CASE (YELLOW) 1 CASE005
DISINFECTANT SPRAY (500ml) 1 RES301
SUPER ABSORBENT (100g) 1 RES402
CLEAN UP PACK 5 RES040
CARRYING CASE (YELLOW) 1 CASE005
DISINFECTANT SPRAY (500ml) 1 RES301
SUPER ABSORBENT (100g) 1 RES402
CLEAN UP PACK 5 RES040
DISINFECTANT SPRAY (30ml) 1 RES300
SUPER ABSORBENT (10g) 1 RES400
CLEAN UP PACK 1 RES040
DISINFECTANT SPRAY (30ml) 1 RES300
SUPER ABSORBENT (10g) 1 RES400
CLEAN UP PACK 1 RES041

INSTRUCTIONS 1 INS001
SOFT VINYL GLOVES 1pr RES850
POLYTHENE APRON 1 RES821
CARDBOARD SCOOP/SCRAPE 1 RES902
BIO HAZARD BAG 1 RES913
NON-WOVEN WIPES 2 RES904
DISINFECTANT WIPE 1 RES500